By Lee Roy Lucero
Enchantment Sports Staff Writer
---
UPDATES: St. Pius ripped Grants 42-7 on Thursday to probably snatch the top seed in the Class 4A playoffs. On Friday, Eldorado got four touchdowns from Ben West to beat Sandia 38-28 and pretty much assure itself a playoff spot despite a 1-3 district record; Cleveland bombed Rio Rancho to go 10-0 and likely lock up the top seed in 6A while La Cueva won 10-7 at Clovis to also finish the regular season at 10-0 and likely grab a first-round bye in the playoffs. Centennial also finished 10-0 by demolishing Gadsden 42-0 on Friday to basically assure itself another first-round bye and Volcano Vista downed Cibola 35-21 to deal the Cougars (5-5) a big blow to their playoff chances. The win gives the Hawks (8-2) a great shot at getting a first-round bye in next week's 12-team playoff.
---
For many New Mexico high-schoolers, this weekend will be the last week that they wear the uniforms of their respective football teams. For those who are done, we thank them for the hours of entertainment and excitement across the Land of Enchantment.
This week Enchantment Sports talks to ProView Networks Adam Diehl and Sebastian Noel about games this weekend where teams are fighting for playoff seeding, bye weeks, and their very playoff lives.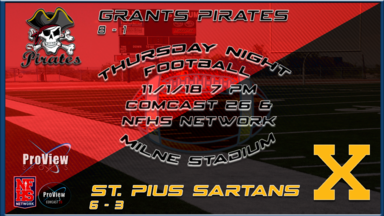 No. 6 Grants (8-1) @ No. 1 St. Pius X (6-3)
"If St. Pius wins they will be the number one seed in 4A football," says Diehl. The Sartans have come out of nowhere and have great wins against Portales and Taos, now they just have to get through Grants."
"I love St. Pius' offense," says Noel. "It took them awhile to get it all together, they line up four receivers on one side and make it difficult to be defended."
If St. Pius wins, or loses by six points or less, it wins the district title.
Diehl, Noel, Lucero: St. Pius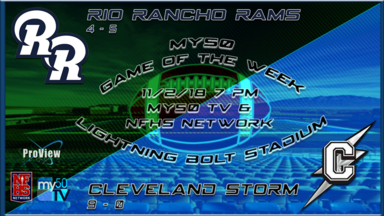 No. 8 Rio Rancho (4-5) @ No. 1 Cleveland (9-0)
"This game may be a little deflating for Rio Rancho after losing 38-35 to Volcano Vista last week," says Diehl. "However, they can theoretically win district if they beat Cleveland by 13 points or more. With Cleveland's Dorian Lewis out… and hey it's a rivalry, so it should be closer than people think."
"You hate to see Dorian Lewis go out with an injury like that," adds Noel. "Still, Cleveland has all the weapons at their disposal to win state. I love their quarterback Jeff Davison, and nobody has a defensive matchup for Tre Watson, he is such a physical receiver. Rio Rancho says they are confident going into the game. I spoke with one of their assistants last week and they felt that they let last week's game get away and now they have to go beat Cleveland."
Various sources have told Enchantment Sports that Lewis, a junior superstar running back, is out for the season after a severe knee injury last week,
Lucero, Diehl, Noel: Cleveland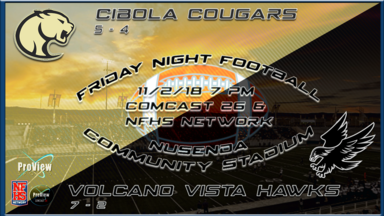 No. 4 Volcano Vista (7-2) @ Cibola (5-4)
"Volcano Vista is playing for a bye," says Diehl. "If they win they get the fourth seed. Meanwhile, Cibola is playing for their playoff lives. Right now, they are on the outside looking in, so they need a close win to get in as it is between the Cougars and the Carlsbad Caveman who are hosting Hobbs this weekend."
"The Hawks Jake Deathrage is a really good quarterback, but he isn't the best," says Noel. "I would take (Cleveland's) Davison over him, but Jake is still a really good quarterback. It took me to week 11 but I'm now a believer in Volcano. They have proven that they are a good team, and ready to step up to the next level. I think coach Wallin likes this group and feels there is more leadership than he has ever had before with this program; and really for me it shows."
"Cibola is pretty good, and it will be a shame if they don't get in," says Diehl.
"(Marcus) Steele is really good," adds Noel. "I think he is the most underrated quarterback in the state. His numbers are great, they run some creative stuff, and he really takes care of the ball. It would be a shame if Marcus isn't able to show his stuff in the playoffs."
Noel and Diehl: Volcano
Lucero: Cibola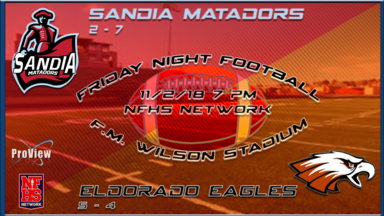 Sandia (2-7) @ Eldorado (5-4)
"This is an under the radar good game. If Eldorado does not win, they will not qualify for the playoffs," says Diehl. "Most would think this is a walkover for the Eagles, but Sandia is playing a little bit better, and getting healthy. Eldorado on the other hand has played worse and worse each week. Star quarterback Gabe Smith… A lot of rumors, I'm hearing that he may or may not play. They are hoping he could get released on Thursday. If Smith plays, I think Eldorado wins, if he doesn't it is a coin flip."
Noel says, "I think the Eagles win either way, I don't think Smith is the panacea for Eldorado's recent woes. He is their entire offense, but he isn't enough for the Eagles to have a huge run in the playoffs."
Adam responded, "all they need is his legs."
On Thursday, Eldorado coach Charlie Dotson told Enchantment Sports that Smith had not yet been cleared to play.
Diehl, Noel, Lucero: Eldorado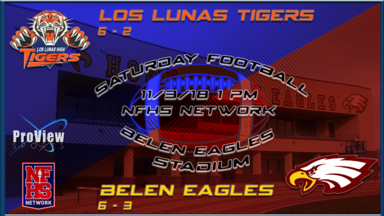 No. 4 Los Lunas (6-2) @ No. 6 Belen (6-3)
"Los Lunas is playing for the four seed and a bye if they win," says Diehl. "As far as playoffs, Belen can move up to five or stay at six. It's a rivalry game though, so you know both teams will be playing hard."
"Belen has been playing a lot better," says Noel. "They are trending in the right direction and have a solid running game. That being said, I think coach (Jeremy) Maupin and the entire Tiger team has to be given a lot of credit for staying competitive and playing hard after losing star quarterback Nick Gaerlan."
Diehl, Noel, Lucero: Los Lunas
Once again I would like to thank all the players and coaches for making this a successful season of New Mexico high school sports coverage for us here at Enchantment Sports. I would also like to thank Sebastian Noel and Adam Diehl for all the help in doing this weekly column. We look forward to starting our boys basketball coverage here next month.
Other Games of Interest
Thursday Nov. 1
Alamo Navajo @ Menaul
West Mesa @ Atrisco
Friday Nov. 2
Taos @ Bernalillo
Del Norte @ Los Alamos
Ruidoso @ Moriarty
La Cueva @ Clovis
Valencia @ Valley
Saturday Nov. 3
Laguna Acoma @ Hope
Manzano @ Albuquerque High
Miyamura @ Highland
Shiprock @ Rio Grande