By Lee Roy Lucero
Enchantment Sports Staff Writer
The New Mexico high school season is in full swing and the top teams in the state are on winning streaks as they separate themselves from the pack, while Rio Grande tries to capitalize on last week's big victory to start a winning streak of their own.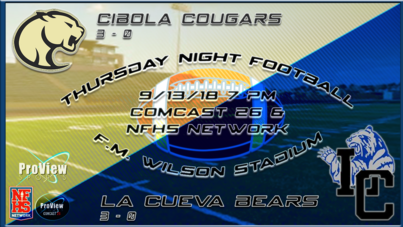 Cibola (3-0) @ No. 2 La Cueva (3-0)
"Battle of the undefeated," says ProView Networks' Adam Diehl. "La Cueva has established themselves as the No. 2 team in the state. However, the difference between the Bears and the Cleveland Storm is razor thin. All that separates them is the Storm victory over (then-No. 2) Eldorado."
"No, Cibola will not win this game," says ProView's Sebastian Noel. "They are better than last year. Last year, I would say the Cougars get 'mercy ruled' at halftime, but Marcus Steele is a two-year starting quarterback and he has looked really good. Coach Rod Williams has installed a whole new culture and offense there on the Westside, and these players are believing in themselves.
"I just think La Cueva's defense is too good," adds Noel. "Cibola may get into the end zone, but it will be tough. As far as offense, the Bears have a solid running back in D'Andre Williams. Last week La Cueva started their backup quarterback Austin Smith, and he led them to a big 45-3 victory over Las Cruces. At this time, we don't know if Dylan Summer will be back this week, but La Cueva has shown they can win with either young man under center."
Predictions:
Adam: La Cueva
Sebastian: La Cueva
Lee Roy: La Cueva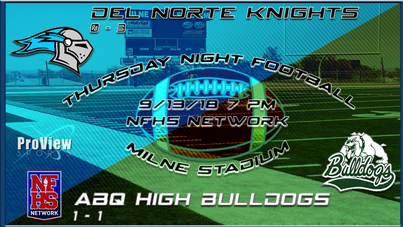 Del Norte (0-3) @ Albuquerque High (1-1)
"Del Norte is searching for a win," says Diehl. "Christian Mejia is their starting quarterback and he is really good, but they haven't found their way into the win column as of yet."
Noel agrees, "Del Norte changed their offensive system and has really talked up the quarterback to start the season, and if they want to be part of the playoff picture they really need a win. It is as simple as that.
"The Albuquerque Bulldogs are independent this year and there will be no playoffs for them," says Diehl.
"Their schedule is tough; they have a win against Miyamura and some athletic receivers," adds Noel, "but being independent, there is no chance for a playoff run, so the Bulldogs are playing for pride."
Adam: Del Norte
Sebastian: Albuquerque High
Lee Roy: Del Norte
5A powers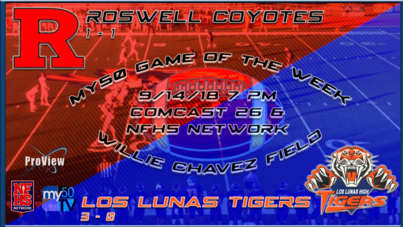 No. 3 Roswell (1-1) @ No. 1 Los Lunas (3-0)
"ProView flexed up a little bit," says Diehl, as this game will be statewide on My50 TV Friday night. "Los Lunas isn't quite blowing people away the way we thought they would, but they have won impressively. While quarterback Nick Gaerlan is one of the best in the state, it is the defense that has really been the strength of coach Jeremy Maupin's Tigers."
"Los Lunas' defense has been solid," says Noel. "No doubt the Tigers are the favorites as they are No. 1 team in the state, but the Roswell Coyotes are No. 3, they were beaten by Hobbs and blew out Lovington. Coach Jeff Lynn has a good team, but this Tiger team is really good."
Adam: Los Lunas
Sebastian: Los Lunas
Lee Roy: Los Lunas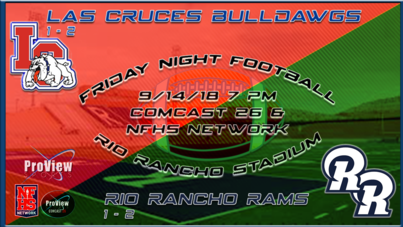 No. 5 Las Cruces (1-2) @ No. 7 Rio Rancho (1-2)
"The Rams got a monster 20-13 win in Clovis last week," says Diehl. "Both are 1-2, with Rio Rancho getting its first win last week, but Las Cruces is going the others way as they started off with a victory over Manzano and have suffered back-to-back blowout losses against Eldorado and La Cueva. The Bulldawgs need a rebound here if they have any dreams of getting into the playoffs. A loss here and their season may spiral out of control."
"This is a tough one for Las Cruces," says Noel. "Rio Rancho has been running the ball really well, and Las Cruces has had a tough time stopping the run. The Rams have some confidence after their win in Clovis, and I would never give up on a David Howes-coached team. And quarterback Isaiah Chavez is healthy and looking good for the Rams."
Adam: Rio Rancho
Sebastian: Rio Rancho
Lee Roy: Rio Rancho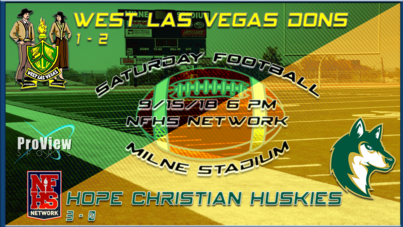 West Las Vegas (1-2) @ No. 1 Hope Christian
"My second week in a row doing a Hope game," says Noel. "Hope is impressive, they have the quarterback, the Cosper receivers (Jake and Ryan), and Nick Quezada. The Huskies have a real chance at running the table. I know the coaches don't want the kids thinking that, but they are really talented.
"West Las Vegas has a couple of good running backs, especially 5-9 Antonio Bustamante, but I think the Huskies are just too much for the Dons.
Adam: Hope
Sebastian: Hope
Lee Roy: Hope
West Mesa (0-3) @ Rio Grande (1-2)
The Rio Grande Ravens pulled off a huge 36-22 victory last week vs. Valencia to snap the state's longest current losing streak at 39 straight. EnchantmentSports.com spoke with Ravens head coach Dennis Minidis about last week's victory and the Ravens' chance of starting a winning streak.
"We knew the win was coming this season," says Minidis. "We have a good team. We are senior heavy, and they have done everything we have asked of them since I got here.
"These players have found excellence in the weight room and academically. They have learned how to overcome adversity both on the field and in the classroom, as we have put an emphasis in their school work, and they have come through."
While the Ravens haven't boasted victories the past few years, there is still a strong sense of pride in the South Valley, and Minidis is impressed on how much last weekend's win meant to the entire Raven community.
Dare Raven fans dream about a two-game winning streak?
"Anything is possible," says Minidis. "West Mesa is a good team and has put it on us a couple of times recently. I hesitate to talk about a streak; I just hope we win more than we lose. The Mustangs have faced some formidable opponents the past few weeks, and nobody on our sideline is underestimating them. It's going to be a heck of a football game."
Other Metro Games this weekend:
Friday Sept. 14th (7:00 P.M.)
Eldorado @ Atricso Heritage
ABQ Academy @ Thoreau
Belen @ Highland
Sandia @ Centennial (Las Cruces)
Moriarity @ Valencia (Los Lunas)
Shiprock @ Bernalillo
Volcano Vista @ Manzano
Saturday Sept. 14th 1PM
Miyamura @ Valley
Cleveland @ Mayfield (Las Cruces)